Electric, foldable, and a modern and elegant design. MAD, the new VELOCIFERO, is an example of how a bright idea turns into a successful product. Ergonomic shapes and fat wheels will be part of each path.
Its author is Alessandro Tartarini, one of the top 100, industrial designer in the world. The MAD is designed for more than just good fun, it's also a versatile commuter for the right type of rider. It includes a removable seat and folding handlebars to meet various riding, transport and storage needs, and accessories like the double headlight and handlebar and saddle bags increase its versatility.
INTERNATIONAL PATENTS PENDING.
The MAD certainly has style and personality. It's also highly customizable, offering five individual motor options between 500 and 1600 watts, along with lead-acid and lithium-ion battery options. Range is between 19 and 25 miles (30 and 40 km) with the 48V/12Ah lead-acid battery, rising up to around 35 miles (56 km) with the lithium option. Speed tops out at 28 mph (45 km/h) on the 1300- and 1600-watt versions. Front/rear disc brakes bring the high-tensile steel-framed, 97- to 106-lb (44- to 48-kg, depending on spec) scooter to a stop.
Mad is coming. To make you fall in love, to change your life, to make your style.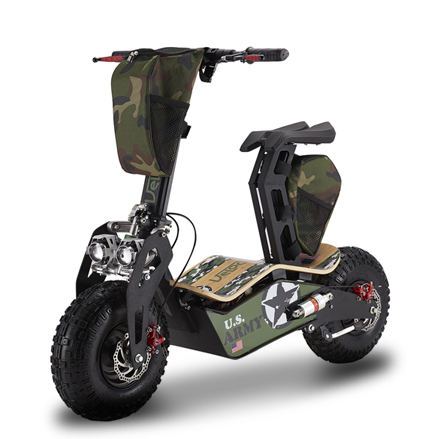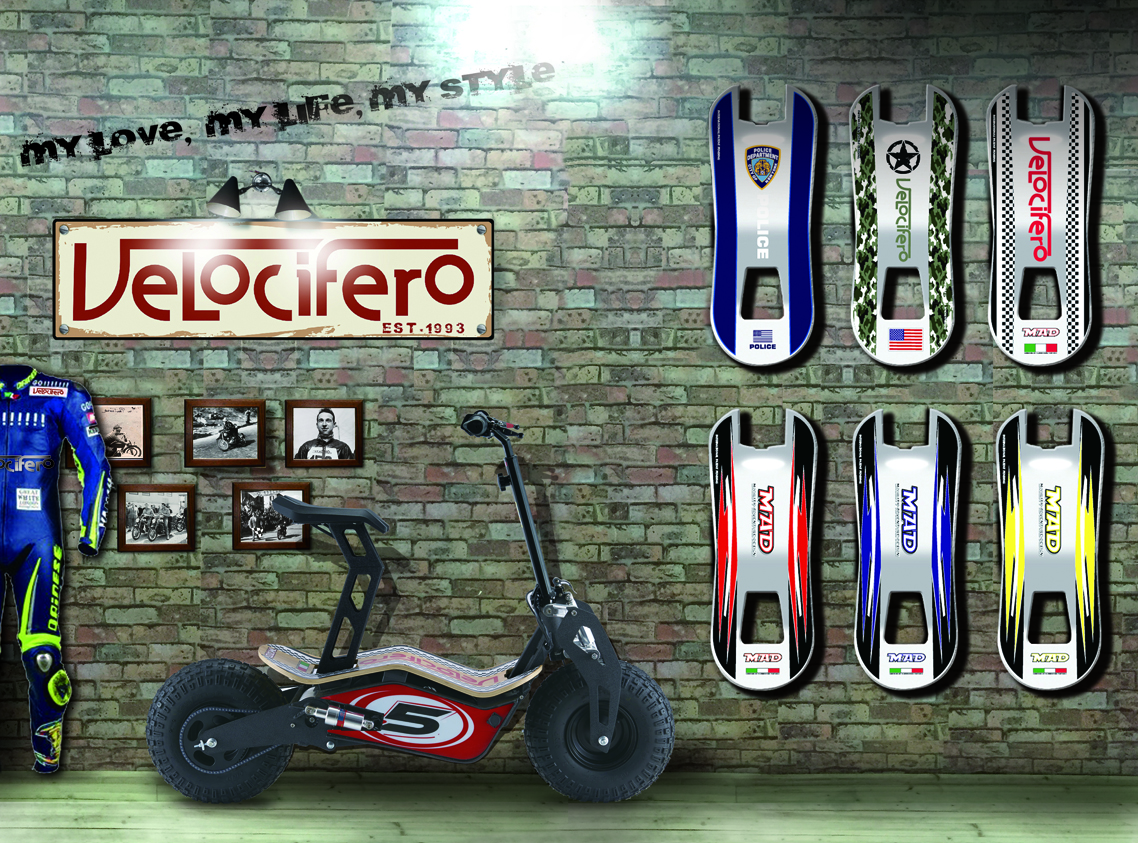 An exceptional cross between a mini-scooter and an electric bike, with very original styling: the bamboo footrest echoes the latest generation of skateboards, the fat tyres give it a sports look, the accessory kit and the range of colours make it a product with a strong personality.
In six different models.
The basic version has a 500 watt 36 Volt brush motor while the top of the range model features a 1600 watt 48 Volt motor with generous torque and enviable performance, attributes that give it the power to tackle all types of terrain. 
| SPECIFICATION | MAD 500 | MAD 800 | MAD 1000 | MAD 1300 | MAD 1600 |
| --- | --- | --- | --- | --- | --- |
| CONTROL MODEL | 500W brush 36V / 12A | 800W brush 36V / 12A | 1000W brush 48V / 12A: | 1300W brush 48V / 12A | 1600W brush 48V / 12A |
| MAX LOAD | 140kg | 140kg | 140kg | 140kg | 140kg |
| FRAME MATERIAL | High-tensile steel | High-tensile steel | High-tensile steel | High-tensile steel | High-tensile steel |
| BATTERY | 36V/ 12Ah lead-acid | 36V/ 12Ah lead-acid | 48V/ 12Ah lead-acid | 48V/ 12Ah lead-acid | 48V/ 12Ah lead-acid |
| RANGE PER CHARGE | 20-25 km | 25-30 km | 30-35 km | 30-35 km | 30-35 km |
| MAX TORQUE | 3 | 4 | 4.5 | 15 | 21 |
| MAX SPEED | 20 km/h | 25 km/h | 25 km/h | 45 km/h | 45 km/h |
| CHARGE TIME | 4-6 hrs | 4-6 hrs | 6-8 hrs | 5-8 hrs | 5-8 hrs |
| CHARGER VOLTAGE | 110-240V | 110-240V | 110-240V | 110-240V | 110-240V |
| TIRE SIZE | 145/70-6 | 145/70-6 | 145/70-6 | 145/70-6 | 145/70-6 |
| DECK | wood | wood | wood | wood | wood |
| FOLDING | yes | yes | yes | yes | yes |
| BRAKE | front and rear disc | front and rear disc | front and rear disc | front and rear disc | front and rear disc |
| FINAL TRANSMISSION | chain | chain | chain | chain | chain |
| SPROCKET | 70ch | 70ch | 65ch | 65ch | 65ch |
| WEIGHT INCL BATTERY | 44 | 44 | 48 | 48 | 48 |
| SIZE FOLDED | 132X 32X 57CM | 132X 32X 57CM | 132X 32X 57CM | 132X 32X 57CM | 132X 32X 57CM |
| PACKING SIZE | 135X 35X 57CM | 135X 35X 57CM | 135X 35X 57CM | 135X 35X 57CM | 135X 35X 57CM |
| CONTAINER PACKAGE | 100pcs/20GP, 200pcs/40GP, 234pcs/ 40HQ | 100pcs/20GP, 200pcs/40GP, 234pcs/ 40HQ | 100pcs/20GP, 200pcs/40GP, 234pcs/ 40HQ | 100pcs/20GP, 200pcs/40GP, 234pcs/ 40HQ | 100pcs/20GP, 200pcs/40GP, 234pcs/ 40HQ |
| CE CERTIFICATE | yes | yes | yes | yes | yes |
| EEC CERTIFICATE | yes | no | no | no | no |