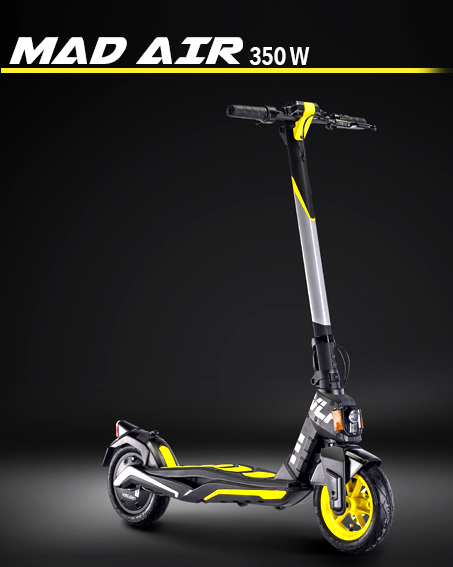 The protagonists of the summer are electric scooters are the allies of those who go on holiday by camper or by boat, because they take up less space than a bicycle. Furthermore, the scooter is one of the most environmentally friendly vehicles in circulation, having a zero impact in terms of emissions on the surrounding environment. So less traffic, less smog, less air pollution and many more benefits for our health.
MAD AIR, the first electric scooter from VELOCIFERO is ideal for replacing the car or various means of public transport, it can be used for daily mobility and also to reach your workplace.
MAD AIR boasts an advanced lithium-ion battery system. Electric, foldable, agile and compact. It is stylish and practical with a folding handlebar, digital display and disc brake. Its low weight and small size make it the perfect scooter for getting around town.
MAD AIR introduces a breath of fresh air and originality to the electric scooter segment with truly innovative Italian design and technology. It consists of ergonomic shapes inspired by the new generation "shoe" that distinguishes it from the rest of the scooters on the market.
The maximum speed that can be reached is – 25 Km / h | 30 Km / h (after the speed limit has been raised). It has a rigid technical plastic footrest, ergonomic and with exceptional bearing and wear properties. Inspired by the spine, it serves as the backbone of the vehicle.
FEATURES
* MAGNESIUM FRAME
* Foldable – to meet transport and storage needs.
* 3.8 INCH SPEEDOMETER – for better readability.
* WIDER TUBELESS TIRES – for better handling.
* 10 INCH WHEELS
* ERGONOMIC FOOTREST
* POWERFUL ENGINE
* REMOVABLE Li-ion BATTERY – charge anywhere.
* DISC BRAKE: single disc brake – double disc brake